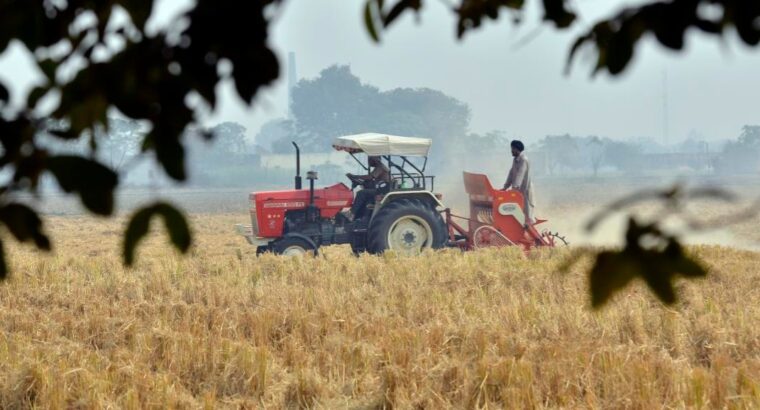 The Panjab Agriculture University study examined deaths by suicide among farmers between 2000 and 2018 in six districts of the state.
As many as 9,291 farmers died by suicide between 2000 and 2018 in six districts of Punjab, a Panjab Agriculture University (PAU) study published in the latest edition of Economic and Political Weekly has revealed.
The districts surveyed were Sangrur, Bathinda, Ludhiana, Mansa, Moga and Barnala.
Heavy debt – most incurred against loans from non-institutional sources – was stated as the prime driving factor in 88% of these cases, the study has found.
Marginal and small farmers were the chief victims – 77% of famers who died by suicide owned fewer than two hectares of land, the study said.
The field survey also revealed that around 93% of the affected households were of those where one death by suicide had occurred. In 7% of the families, there were two or more cases of suicides. 92% of total deaths by suicide were by men.
According to the study, the number of debt-related suicide cases was the highest (515) in 2015. Cotton crop had failed that year.
Cotton is the major commercial crop of Bathinda, Mansa and Barnala districts, and the productivity of American cotton was the lowest (197 kg per hectare) in 2015 over the last three decades.
The study conducted by Sukhpal Singh, Manjeet Kaur and H.S. Kingra, three senior members of faculty of the PAU's Department of Economics and Sociology, consolidated the total number of deaths by covering all the villages in these six districts through door to door surveys.
Among the districts surveyed, Sangrur which is currently the main hub of the current Aam Aadmi Party government, is claimed to have had the highest number of deaths by suicide – 2,506 – followed by Mansa (2,098) Bathinda (1,956), Barnala (1,126), Moga (880) and Ludhiana (725).
Reason for heavy debt
Farmers in the region have been indebted historically. In fact, as far back as the early 1920s, British researcher Malcolm Lyall  Darling had remarked, "The Punjab peasant is born in debt, lives in debt and dies in debt."
To understand how a perennial debt problem appears to be leading to fatal consequences, the study analysed the changing agrarian scene of the last century. Before green revolution in the state, subsistence farming had been prevalent. In it, farm inputs were produced by the farmer at home, and farm output was intended for home consumption.
But after the mid-1960s, green revolution strategies initiated commercial farming in which both farm inputs and farm outputs became linked with the market.
Thus funds needed to be borrowed and these funds, lent at exorbitant interest rates, especially by private agencies, pushed farmers into a debt trap.
Moreover, policies of neo-liberalism reduced farm profitability through expensive farm inputs, stable real crop prices and restricted farm subsidies.
Likewise, the privatisation of social services (health, education, and domestic services) also weakened the family budget of farmer families.
This situation led the capital-scarce peasantry towards an economic squeeze that added to their helplessness.
75% suicide cases among farmers younger than 35 years
Around 75% of farmers who died by suicide were between the ages of 19 and 35 years, the study reveals. About 45% of those who have died by suicide were illiterate and 6% studied up to the higher secondary level.
As per the study, families of suicide victims were found to be in deep fear over their social insecurity. One-third of such families lost their chief wage earners to death by suicide and were left with no clear path of earning a livelihood. Around 28% of the families suffered from depression, the study said.
About 13% of the families had to sell off their land in the aftermath of the death, letting go of their only means of livelihood. As many as 11% of the families' children had to discontinue their education.
The study found that families where a member had died by suicide due to a debt burden were socially shunned as well.
Policy intervention
As per the study, the system of paying compensation to families of victims is tedious.
In March 2013, the state government had formulated a policy as per which compensation of Rs 3 lakh, along with other help, should be given to victims' families within a specific period following a death.
But, in many cases these families were deprived of this compensation due to lack of required documents, such as post-mortem report, credit record and so on.
As per the study, it is essential to extend compensation to all farmer families where a member has died by suicide as they are mostly all in dire economic distress.
The study also highlights that debt settlement – the very reason why farmers were driven to suicide – was often left unattended.
The study advises that institutional loan, which are around 43% of the total loans taken by victim families, should be waived off.
To settle the loans advanced by non-institutional sources, a 'Scheme for Debt Swapping of Borrowers' should be made effective for converting the non-institutional debt into institutional debt, the study said.
Further, the study suggested that the rate of interest on agricultural credit be reduced, and functions and activities of non-institutional credit agencies be regulated and monitored.
The payment of farmers' produce should be made directly to the farmers, and not to the commission agents, so that the farmers come out of the bondage of commission agents or moneylenders.
Third, there should be compensation for crop failure, the study notes. As for a long-term solution, farm profitability should be enhanced by mitigating production and marketing risks.
For this purpose, the procurement of farm produce should be efficient and effective. Moreover, costs of cultivation should be reduced by providing farm inputs, such as seed fertilisers, agrochemicals, and farm machinery at subsidised prices, the study says.
Next issue, as per the study, is related with heavy farm mechanisation which has pushed the peasantry further into debt. Many small farmers took loans to buy tractors. This move proved to be non-viable economically.
In Punjab, around a quarter of the small farmers of the state own tractors, which makes their farming non-viable due to higher fixed costs and other reasons.
Therefore, agro machinery service centres need to be set up in every village on a cooperative basis. In these, small farmers must get priority for custom hiring of machinery.
The study also called for the public health and education sectors to be strengthened by providing effective and efficient free services to people in general and distressed families in particular.
All eyes on new govt
In the run up to Punjab elections, Aam Aadmi party supremo Arvind Kejriwal had claimed that if his party was to form the government in Punjab, it would stop deaths by suicides among farmers.
In the two months since the AAP came to power, two dozen farmers have died by suicide.
The opposition, including Congress Punjab chief Amarinder Singh Raja Warring, has criticised the Bhagwant Mann led government for not living up to its promise.
Punjab AAP spokesperson Malvinder Singh Kang told The Wire that the Mann government is committed to taking adequate steps to make farming profitable in Punjab and take farmers out of debt cycles.
"The result will be visible soon in terms of policy intervention and other measures," he added.