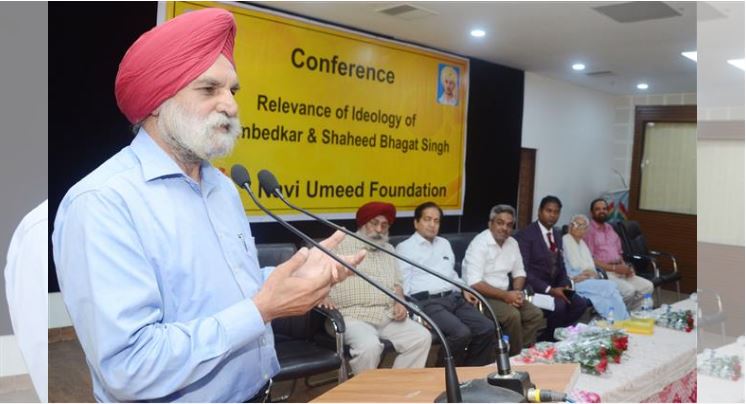 Prof Jagmohan Singh, nephew of Shaheed Bhagat Singh, today said the statement made by Sangrur MP Simranjit Singh Mann that Bhagat Singh was a terrorist is continuation of the narrative which served the ruling class during the British rule.
He said this discourse was driven by "people who had always cooperated with the government" and questioned Sangrur MP's own past related to the killings of Nihangs.
Prof Jagmohan said he didn't recommend filing an FIR against MP Simranjit Singh Mann as it would unnecessarily make him a "hero".
Speaking to The Tribune on the sidelines of a seminar, Prof Jagmohan Singh said, "The first thing to understand is that people with huge property have always negotiated with the government and they still have the same mentality. All the revolutionaries —Bhagat Singh's great grandfather — preferred principles over property. In 1857, when he was invited to help the Britishers, he opted for principles."
He said, "Why did Sangrur MP raised this issue now? It's because somewhere the ruling classes are served by this narrative. He is one of those police officers who fired at the birth place of Guru Angad Dev and killed Nihangs who were given assurance to surrender. He killed them with his own hands. It is opportunism."
Prof Jagmohan said, "Bhagat Singh was a revolutionary. His actions aimed to empower people. After Lala Lajpat Rai's death, there was despair. He wanted to bring people out of it."
He said throwing of bombs in the Central Legislative Assembly on April 8, 1929, was only aimed at creating a drama. "Bhagat Singh believed, 'Who will allow me to say my things, until I create a drama?' They (Bhagat Singh and Batukeshwar Dutt) ensured that nobody gets injured in the blast. Only one shot was fired in the Central Legislative Assembly. The reality is being distorted."
Not in favour of lodging an FIR
Prof Jagmohan Singh said he was not in favour of lodging an FIR against Sangrur MP and make him a "hero"

"Bhagat Singh never asked to worship him. He stressed on reading, taking help of history and making your own perceptions," he said

The Shaheed Bhagat Singh Welfare Society has sought an apology from Sangrur MP by August 15