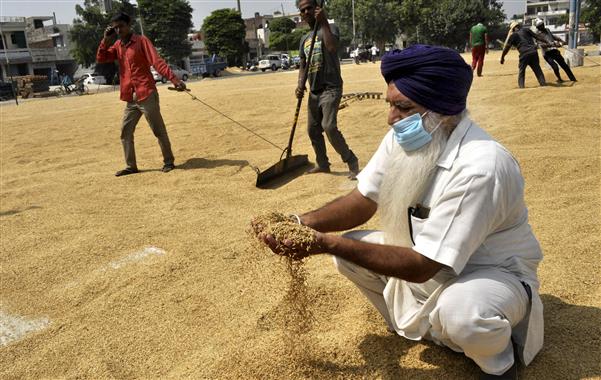 Move aims to strengthen rural mandis infrastructure and provide efficient procurement system to farmers
In a bid to strengthen overall rural infrastructure and put in place the advanced procurement system to the farmers, the Punjab Cabinet on Wednesday approved the Punjab Rural Development (Amendment) Ordinance, 2022.
The decision was taken at a cabinet meeting chaired by Chief Minister Bhagwant Mann at the Chief Minister's Office here.
Resultantly, the Punjab Rural Development Act, 1987, has been amended in line with the revised principles laid down by the Union Department of Food and Public Distribution, Ministry of Consumer Affairs, Food and Public Distribution, on February 24, 2020.
It may be recalled that the Centre, vide its letter dated October 23, 2020, sent the Provisional Cost Sheet (PCS) for Kharif Marketing Season (KMS) 2020-wherein it does not account for statutory dues of Rural Development Fund (RDF) calculated at 3 per cent of MSP; however, the PCS provides as "matters related to deductions from MSP made by state and utilisation of RD Fee for the purpose of development of procurement centre is under scrutiny".
According to a spokesperson of the CMO, the RDF will be spent for the purposes/activities, including construction or repair of approach roads to mandis/procurement centres and streetlights thereon enabling farmers in transportation of their produce, construction/development of new mandis/procurement centres and development of old/kuchha mandis/procurement centres.
The spokesperson said that for making arrangements for supply of drinking water and for improving sanitation in the mandis/procurement centres, for providing well-equipped resthouses/night shelters/sheds for farmers and labour engaged in procurement operations.