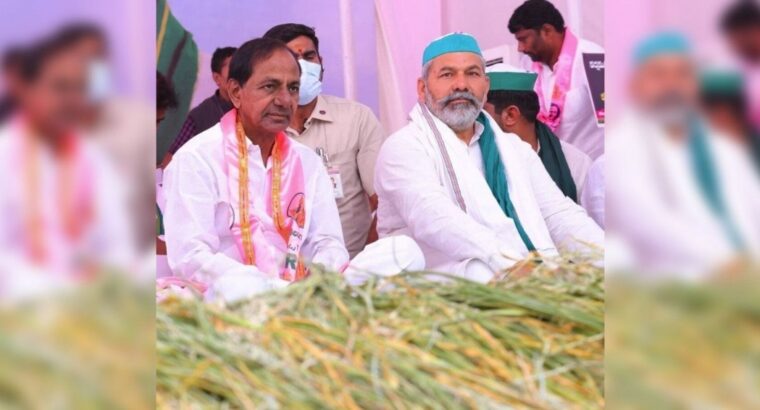 Sitting on a day-long dharna at Delhi's Telangana Bhawan, chief minister K. Chandrashekhar Rao, along with his party leaders, issued the Modi government an ultimatum, giving it 24 hours to purchase 15 lakh tonnes of paddy from the state's farmers.
New Delhi: Telangana chief minister and Telangana Rashtra Samithi (TRS) chief K. Chandrashekhar Rao launched a day-long dharna on Monday, April 11, demanding that the Union government procure 15 lakh tonnes of parboiled rice from the state's farmers.
The chief minister was joined by party ministers, MPs, MLAs and party members of all ranks at Delhi's Telangana Bhawan in demanding the procurement of paddy. Here, he offered the Modi government an ultimatum, giving it 24-hours to draft a new uniform paddy procurement policy, failing which the party would take the protest to a national scale.
Ahead of the protests, the TRS had reportedly even put up posters and billboards around the Bhawan, carrying slogans such as, 'One Nation, One Paddy Procurement Policy' and 'Central government should protect the interests of the farmers.
Ahead of big #TRS protest in Delhi on Monday, demanding #OneNationOneProcurement policy, posters of @TelanganaCMO #KCR have come up at multiple locations in Delhi both in English and in Hindi #JaiTelangana #Jaikcr pic.twitter.com/q4a3XsopCs

— Lingareddy (@Lingare64809971) April 10, 2022
"With folded hands, I urge Modi ji and (Union food minister Piyush) Goyal ji to respond to the state's demand on paddy procurement within 24 hours. After that, we will take a call," Rao said.
He also warned Prime Minister Modi not to "play with the sentiments of farmers" because they have the power to topple governments.
"Farmers are not beggars; they have the right to seek minimum support price (MSP) for their produce," the Telangana chief minister said.
The TRS has alleged the Union government refused the state government's request to procure the parboiled rice while Goyal has contended that the Telangana government had written to the Union government that it would supply raw rice, not parboiled rice, to the food corporation of India, according to NDTV.
Parboiled rice is rice which is soaked while in the husk and partially boiled down. According to the Tribune, the Union government had earlier communicated to the state that it would not procure parboiled rice because there is no market for it.
Bharatiya Kisan Union (BKU) leader Rakesh Tikait, too, supported the TRS's protest, tweeting his support of it.
एक राज्य सरकार (तेलंगाना) किसानों की फसल खरीद की मांग को लेकर केंद्र के खिलाफ धरने पर बैठे यह शर्मनाक स्थिति है। केंद्र को सभी राज्यों के किसानों का एक – एक दाने की खरीद सुनिश्चित करनी चाहिए। वरना किसानों को तो मजबूरन सड़क पर आना ही पड़ेगा।@PTI_News @PMOIndia @ANI @TelanganaCMO

— Rakesh Tikait (@RakeshTikaitBKU) April 11, 2022
Apart from the demand for a new agriculture policy, Rao also hit out at the Union government's supposed "disrespectful" treatment of state leaders and farmers alike. According to an Indian Express report, Rao alleged that Goyal had behaved in a "bad and disrespectful" manner when he had met Telangana agriculture minister Singireddy Niranjan Reddy.
"Why does the Centre have so much ego? Farmers will suffer and it will not be good for anyone. You are not functioning like a democratically elected government, yours is a shadiantra (conspiracy) government and the people of the country are noticing it," the Express quoted Rao as saying.
Meanwhile, the Bharatiya Janata Party (BJP) in Telangana organised protests in the state demanding that Rao procure the farmers' paddy or step down from the post. Union minister V, Muraleedharan and BJP state president and MP Bandi Sanjay were present at the agitation.
(With PTI inputs)