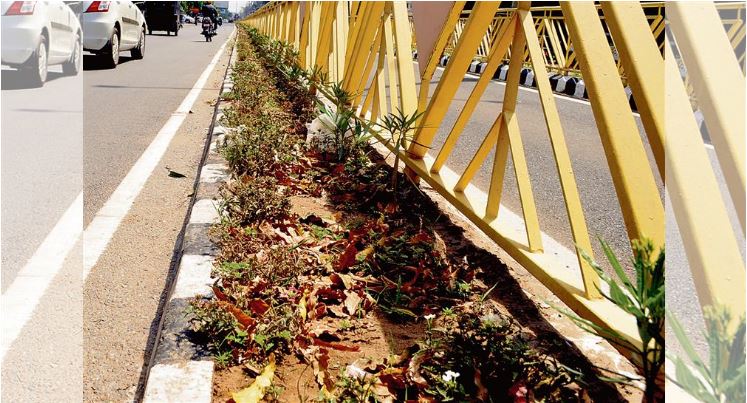 Flowers, ornamental plants and saplings plated on the roadside near BRTS terminals, roads and roundabouts for decoration before G20 event have got deteriorated for want of care in the city. Though, the rise in temperature is one of the main reasons, but the Municipal Corporation and other departments concerned are not making any efforts to take care of these flowers and plants.
In February this year, the Municipal Corporation had planted these plants and flowers in wake of G20 Summit, which held from March 15 to 20 on various locations in the city. The routes, from where delegates of G20 conclave were frequently visited, were decorated with plants and flowers. The residents and visitors appreciated the MC for this effort and people praised it on their social media accounts.
With the rise in temperature the flowers and plants needed regular water. However, the vehicles of the horticulture wing of MC and Kar Sewa Dera Bhuri Wale can be seen irrigating the plants but the floras alongside the BRTS routes and pockets of roundabouts needed more attention of the authorities.
"All the residents had appreciated the MC for planting saplings, flowers and greeneries before the international event. The people were expecting from the MC that they take care even after the end of summit. The government has spent huge funds on these projects to beautify the city. It should be maintained properly," said Gurjit Kaur, a resident.
Naveen Kumar, another resident, said that the survival of plants was much needed and instead of planting thousands of plants the MC should plant a few but take care of it.