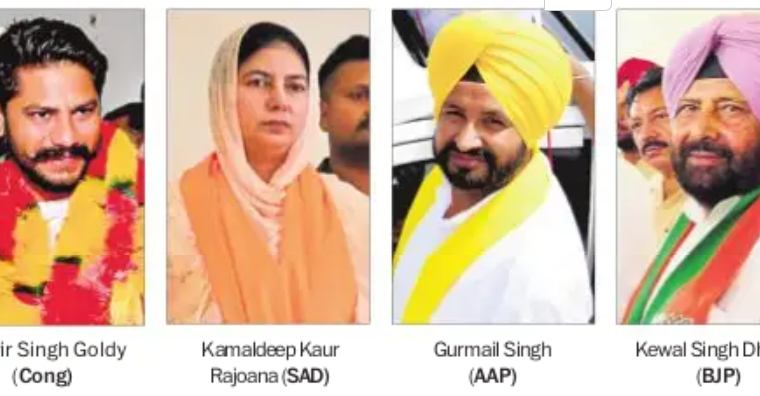 Send messages, meet supporters in small groups to drum up support
ll political parties gave the last push on Wednesday to woo voters for the Sangrur Lok Sabha bypoll. Leaders of various political parities sent messages and met their supporters in small groups to mobilise more and more support.
"The AAP government, led by Chief Minister Bhagwant Mann, has been taking action against corrupt officers and politicians of all political parties. Our government has taken many pro-people decisions in the last three months and many more will be taken in near future. I request area residents to vote for AAP," said Gurmail Singh, AAP party candidate.
Local BJP leader Sarjiwan Jindal alleged that since AAP had failed to come up as per the expectations of residents, their party candidate Kewal Singh Dhillon would win.
Anil Kicha, a local Congress leader, said, "We are getting a good response. Residents will vote for our candidate Dalvir Singh Goldy. We have got a massive response from voters during the campaign."
The Sangrur bypoll has compelled state presidents of all political parities, including the SAD, BJP, AAP, Congress and SAD (Amritsar), to campaign in Sangrur. All Opposition parties are mainly targeting the ruling party.
The Election Commission (EC) has declared 296 polling stations sensitive. The Sangrur Lok Sabha seat has nine Assembly constituencies. Sangrur, Dhuri, Sunam, Dirba and Lehra constituencies are in Sangrur district, Malerkotla constituency is in Malerkotla district and Bhadaur, Mehal Kalan and Barnala constituencies are in Barnala district.
"We have deputed 7,064 government employees to conduct the election while 1,413 are in reserve. Apart from this, we have deputed 6,716 employees of various security forces to prevent any untoward incident," said Jitendra Jorwal, Returning officer (RO)-cum-Deputy Commissioner, Sangrur.
Ahead of Sangrur Bypoll, Dalit Agricultural Labourers Assert Their Demands