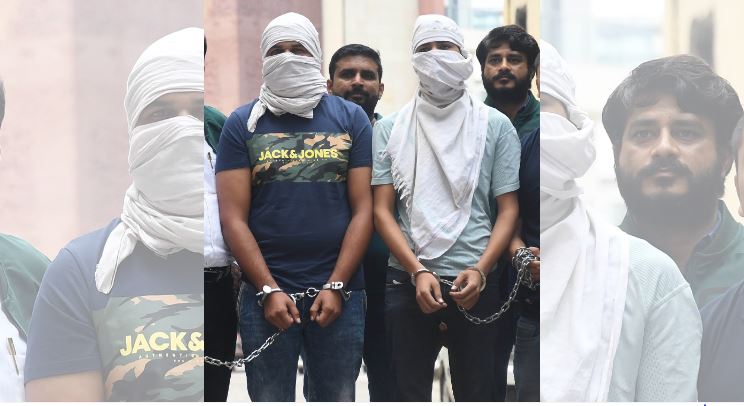 One of them opened fire with both hands, other harboured 4 shooters
The Delhi Police special cell today claimed to have arrested two members of the Lawrence Bishnoi-Goldy Brar gang in connection with the murder of Punjabi singer Sidhu Moosewala.
With the arrest of Ankit Sirsa and Sachin Bhiwani on Sunday night, the Delhi Police have arrested five persons in the case so far. According to officials, Ankit was one of the shooters involved in the killing of Moosewala, while Bhiwani was responsible for harbouring four shooters.

                                                                           A still from the video that emerged after Ankit's phone was scanned.
Video shows shooters celebrating killing

With the Delhi Police arresting two more persons, the police have found a new video linked to the case. The video, celebrating the murder, emerged after the phone of the youngest of the shooters, Ankit Sirsa, was scanned. The purported video shows five men in a car flaunting their guns, celebrating the killing of Moosewala. A Punjabi song can also be heard in the backdrop of the video.

Those arrested

Ankit of Sersa village in Haryana is the youngest shooter who opened fire with both hands

Sachin Bhiwani of Haryana harboured four shooters

Cops get transit remand of four

The Punjab Police on Monday got the transit remand of four persons, including two shooters, in the Sidhu Moosewala murder case from Patiala House Courts in Delhi.

The police have got the transit remand of Priyavrat, alias Fauji, Kashish, alias Kuldeep, Deepak, alias Tinu, and Keshav Kumar.

The court observed that as the arrested persons had been accused of committing a cognisable offence, the transit remand of the accused persons for one day was granted to produce them before the court concerned as early as possible.

The order further stated that the medical examination of the suspects be conducted as per the guidelines laid down by the Supreme Court.
They said Bhiwani, a native of Haryana, handled operations of the Lawrence Bishnoi gang in Rajasthan. He was also wanted in a case at Churu in Rajasthan. Ankit of Sersa village in Haryana is also named in two cases of attempt to murder in Rajasthan.
HGS Dhaliwal, Special CP, Delhi Police, said, "The main effort of the special cell after nabbing the mastermind and coming to know about an international criminal conspiracy was to arrest those who were on the ground, and who actually killed Sidhu."
"Our team was on their trail in six states, including Madhya Pradesh, Jharkhand, Gujarat, Haryana, Uttar Pradesh and Delhi. Last night after 11pm, Ankit Sirsa, the youngest shooter who fired with both hands, and Sachin Bhiwani, who provided crucial support, were arrested," Dhaliwal said.
According to the officials, the police seized one 9mm pistol along with 10 live cartridges, one .30 mm pistol along with nine live cartridges, three Punjab Police uniforms and two mobile handsets along with a dongle and a SIM card.