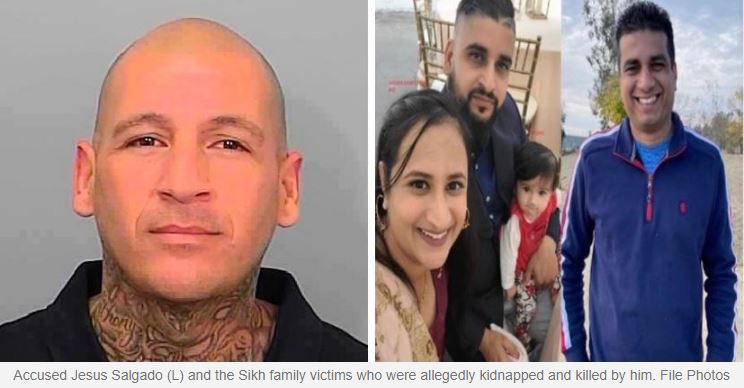 The suspect involved in the kidnapping and killing of the Sikh family in California was previously also jailed for robbery after he held a family he had then worked for at gunpoint and terrorised them 17 years ago.
Jesus Salgado, who was arrested on Thursday on the suspicion of kidnapping and killing the Sikh family of four, including 8-month-old Aroohi Dheri, her 27-year-old mother Jasleen Kaur, her 36-year-old father Jasdeep Singh, and her 39-year-old uncle Amandeep Singh, was sentenced to 11 years in prison in 2007 and was released in 2015 and discharged from parole three years later, according to the California Department of Corrections and Rehabilitation.
Nearly two decades ago, Salgado worked for a family, which also owned a trucking company, but was fired in 2004 because the family suspected him of stealing money, members of the family said. Kathy and her daughter Katrina when first saw surveillance images of Salgado, they did not immediately recognise him. Salgado, now 48, had aged significantly, and Kathy and Katrina weren't sure he was the man who robbed them at gunpoint 17 years ago.