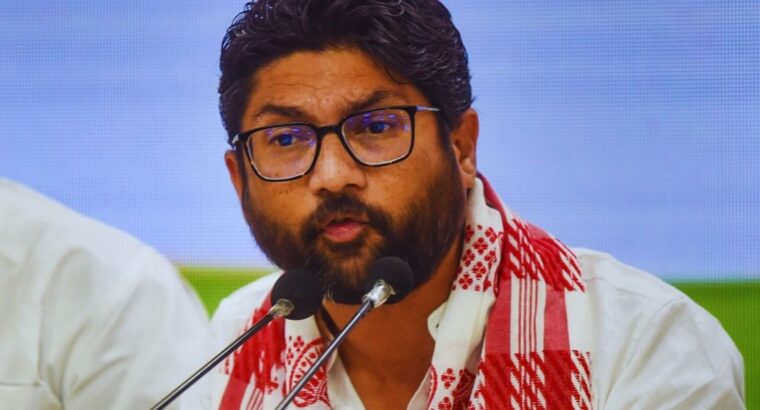 The vocally secular Dalit leader had escaped BJP's attention until now. But after focusing on two other figures in what was once a strong opposition trio – Alpesh Thakore and Hardik Patel – BJP is keen to concentrate on him.
New Delhi: Two days after he was released on bail, Gujarat legislator Jignesh Mevani upped the ante against the Bharatiya Janata Party for allegedly framing him in frivolous charges as serious crimes in the state lay unattended by investigative bodies.
At a press briefing in the Congress headquarters, Mevani alleged that his arrest was part of a "pre-planned conspiracy" by some "Godse bhakts" – followers of Mahatma Gandhi's assassin Nathuram Godse – in the Prime Minister's Office. He said that he was being targeted ahead of the assembly elections later this year by the ruling saffron party in order to tarnish his reputation.  
"Some Godse bhakts who are sitting in the PMO were behind my arrest," the independent MLA, who is now a part of the Congress, told reporters.
Hitting out at the BJP-led state government in Gujarat, Mevani said that no probes have been ordered in various public interest concerns, while a social media post by him was seen by the BJP as important enough to initiate action. 
"There had been 22 instances of question paper leak in Gujarat, but no case had been lodged, no arrests made or no investigation carried out. Neither was there any probe into the huge drug haul estimated to be worth Rs 1.75 lakh crores at Mundra port and nor were there investigations or arrests into the allegations of rape levelled against a Gujarat minister by a Dalit woman. A call for genocide of a particular community was made from a Dharma Sansad but no action was taken," he said.
Mevani was arrested by Assam police on the midnight of April 20 for a social media post questioning Prime Minister Narendra Modi's silence on a spree of communal riots across India in the aftermath of aggressive Ram Navami processions. The Assam police flew to his constituency Vadgam in Gujarat's Banaskantha district to arrest him.
Immediately after he secured bail in the case, he was rearrested by the state police over a complaint filed by a policewoman, accusing him of "assault" and "outraging of modesty". This sparked a political row. However, a sessions court granted him bail in the absence of any concrete evidence.  
The Vadgam MLA read out portions from the bail order in the second case against him in which the Barpetta sessions court judge Aparesh Chakraborty dismissed allegations against him as "manufactured" and accused Assam authorities of seeking to establish a "police state".
Mevani said, "My tweet was simple. I was merely asking the Prime Minister to appeal for peace and harmony. For that, they arrested me. What does it show? It was a pre-planned conspiracy to destroy me…I was not provided a copy of the FIR…the (IPC) sections slapped against me were not disclosed to me. I was not allowed to talk to my lawyer…my privilege as an MLA was disregarded. The Speaker of the Gujarat Assembly was not informed about my arrest…Perhaps he was informed after I was taken to Assam and once I was in their custody. This has hurt the pride of Gujarat. The Gujarat government should also be ashamed."
Gujarat and the story of three leaders
Mevani's firebrand retort to his arrests is likely to heat up the political climate in Gujarat which is headed towards assembly polls in December, 2022. With a new player, Aam Aadmi Party, making strident efforts to gain a foothold in the state and the ruling BJP making sharp moves to get important community leaders on its side, Mevani's arrests will likely energise the Congress which is looking to come to power in the state. 
Over the last week, when Mevani was imprisoned in Assam, Gujarat BJP president C.R. Paatil brought Congress leader Manibhai Vaghela into BJP's fold. Vaghela was former Congress MLA from Mevani's constituency, Vadgam. However, in 2017 assembly polls, even as Vaghela filed his nomination, the then Congress president Rahul Gandhi extended support to Mevani at a public rally that eventually helped the young Dalit leader win. Mevani had shot to fame for having led the agitations against the brutal flogging of Dalits by saffron party's supporters in Una in the pretext of their cow protection campaign. 
Mevani will most likely face Vaghela, who has switched over to the BJP, in the upcoming assembly polls.
Ahead of the 2017 polls, the Congress had primed itself for a win not so much because of its organisational work but mostly because of united support from three young leaders – Hardik Patel who led the Patidar agitation, Alpesh Thakore who emerged as an important community leader of Other Backward Class Thakores by running a de-addiction campaign, and Mevani who mobilised the state's 7% Dalits against the ruling BJP. 
After the saffron party narrowly missed a defeat, it worked hard to neutralise the three leaders.
Hardik Patel was charged in various cases because of which he couldn't contest both the assembly and 2019 parliamentary polls. As he has been cleared of all charges, Hardik, who has also joined the Congress and is currently one of the working presidents of the Pradesh Congress Committee, is looking to contest elections for the first time in 2022. However, his recent critical statements against the Congress leadership in the state and praise for BJP has only muddied the waters for the Congress. He has also dropped the party name from his Twitter bio. Political observers attribute Hardik's growing distance from the Congress to the party's attempts to bring influential Leuva Patel leader Naresh Patel on board. 
File image: Jignesh Mevani, Hardik Patel and Alpesh Thakor meet relatives of Dalit activist Bhanubhai Vankar. Photo: PTI/File
Although Naresh Patel, who has also been approached by BJP and AAP, has still not made his inclinations clear, Hardik, belonging to Kadva Patel community, possibly views Naresh Patel as a potential political rival. 
Hardik's recent statements have only enthused the BJP. The saffron party has already poached Alpesh Thakore from the Congress in 2019. 
The vocally secular Mevani, who had escaped BJP's attention until now, is the last in the trio to face the saffron party's political pressure. 
Says editor of Ahmedabad-based Development News Network Darshan Desai, "Dalits form 7% of Gujarat's population and are influential in 13 reserved assembly constituencies for Scheduled Castes. Mevani is an important leader in the community. Both Mevani and Hardik Patel are crucial for Congress's prospects in the assembly elections. BJP's systematic targeting of the trio, the latest being Mevani, is actually a veiled attack on the grand-old party."
With AAP rising in the state, Mevani's arrests have also helped the BJP to preserve the historical bipolarity in the state, and shift public attention towards the largely-inactive Congress and away from Arvind Kejriwal's recent win in Punjab.
It remains to be seen how Congress, a divided house as it is in Gujarat, can match up to the BJP's challenge.