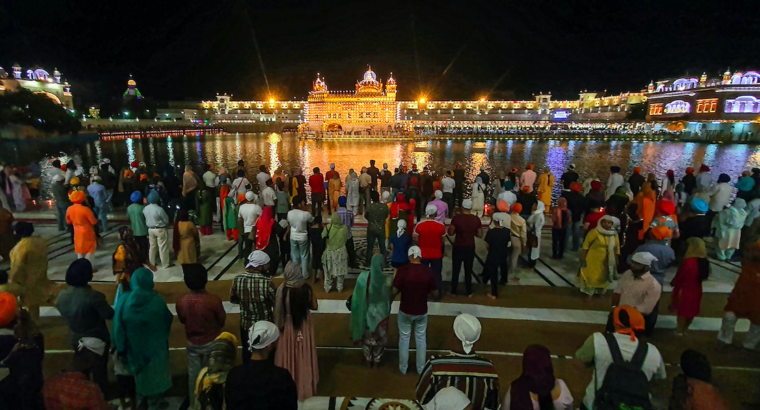 Sikh scholars have expressed misgivings with the BJP government's efforts to portray the Sikh Guru as a symbol against Muslims, with several of them insisting he died protecting the ethos of religious freedom.
Jalandhar: Hours before Prime Minister Narendra Modi addressed the nation on the 400th birth anniversary of Sri Guru Tegh Bahadur, the ninth guru of the Sikhs on April 21, the Shiromani Gurdwara Parbandhak Committee issued a statement.
In it, the SGPC called for "everybody's religious freedom" to be "established and protected" following the ideology of the freedom fighter, Guru Tegh Bahadur.
In his address from Red Fort on April 21, Modi said, "In front of Aurangzeb's tyrannical thinking, Guru Tegh Bahadur became 'Hindi di Chadar' and stood like a rock. This Red Fort is a witness that even though Aurangzeb severed many heads, but could not shake our faith."
PM Modi also released a commemorative coin and a postage stamp dedicated to Guru Tegh Bahadur on this occasion.
Delhi's Red Fort faces the historic Gurdwara Sis Ganj Sahib, where Guru Tegh Bahadur was beheaded on the orders of the Mughal emperor Aurangzeb in November 1675.
Though Akal Takth acting chief Giani Harpreet Singh and SGPC chief Harinder Singh Dhami thanked Modi for celebrating the occasion at the national level, the fact that they did not shy away from raising minorities' rights is significant.
What the statement said
The SGPC had organised a large congregation at Gurdwara Manji Sahib Diwan Hall, Amritsar on the 401st Parkash Parv of Guru Teg Bahadur.
In its statement, the SGPC stated that everyone's religious freedom should be established and protected as per the ideology of the ninth Guru – including Sikhs, who made great contributions in the freedom struggle of the country.
"If excesses are committed against anyone, then it would be understood that the government at Delhi is not sincere," the statement read.
In his address, Akal Takth Jathedar Giani Harpreet Singh said, "The motive of martyrdom of Sri Guru Teg Bahadur was so that the right to practice faith and religion was given to everyone. But today in India, going against the ideology of the Guru Sahib, the religious beliefs of minorities are being suppressed."
Harpreet Singh also pointed out that Sikh issues are not being resolved. "The promises made to the Sikhs since the Partition of country in 1947 to date have not been fulfilled and that is why there is an environment of distrust in Sikhs," he said.
SGPC president and advocate Harjinder Singh Dhami also said that today, when the Union government was organising events at Red Fort in Delhi on the birth anniversary of Guru Tegh Bahadur, it would have been better if the prime minister announced concrete steps against hate crime in the country.
Sikh scholars speak
Sikhs have largely been sceptical of the Rashtriya Swayamsevak Sangh and Bharatiya Janata Party's ideology and their approach towards minorities but following the farmers' protest, which began from Punjab and caused Shiromani Akali Dal (SAD) to break alliance with BJP, the trust deficit has further increased.
Talking to The Wire Dr Amanpreet Singh Gill, associate professor of Political Science, Sri Guru Teg Bahadur Khalsa College of Delhi University said that the ninth Guru's sacred memory has been used for political mobilisation more than once and by more than one party.
Gill said in 1857, it was the East Indian Company army that invoked the memory of this martyrdom in Delhi.
"In 1909, British civil servant turned Sikh historian Max Arthur Macauliffe, described a story in this six-volume epic work The Sikh religion: Its Gurus, Sacred Writings and Authors. He wrote on Guru Teg Bahadur saying that 'future, hat-wearing Sikhs' will come from the West and liberate India from the Mughals," he said.
Gill said that in 1975, former Punjab Chief Minister Giani Zail Singh and the Congress party used the occasion of the completion of 300 years of the Guru's martyrdom to carve a space for the party in the arena of panthic (Sikh religious) politics, which was an Akali monopoly.
"It was also the first time when slain Prime Minister Indira Gandhi shared the stage with Kartar Singh, the head of Damdami Taksal, an orthodox Sikh seminary at Red Fort, Delhi," he added.
Damdami Taksal is the same Sikh body, from where Jarnail Singh Bhindrawale came into prominence.
Gill said that the Modi government's celebrations were noteworthy. "But their symbolism raised more questions than answers. The government's approach towards the idea of religious freedom will be questioned because it was the very ideal for which Guru Teg Bahadur gave up his life," he added.
"Had Guru Teg Bahadur been alive today, he would have stood with the Muslims facing oppression in the country," Gill said.
Another Sikh scholar, Dr Amarjit Singh, director of Sri Guru Granth Sahib Study Centre of the Guru Nanak Dev University at Amritsar said that Modi's speech summed up the life, ideals and sacrifices of Guru Teg Bahadur. But he stressed that there has been misrepresentation by a section of the Guru's life and ideals.
"Guru Teg Bahadur was never against any religion but injustice, tyranny and oppression", he said.
Amarjit added that Aurangzeb, who Modi mentioned in his speech, was a Sunni Muslim. "He was not just against those who dared to challenge his coercive orders but also his own fellow Muslims, the Shia community. Aurganzeb killed a Sufi Saint Sarmad Kashani just because he did not like his Sufi practices. He also killed his foster brother Saif Khan, in whose name stands a town called Saifabad in Patiala district of Punjab," he said.
On Guru Tegh Bahadur saving Kashmiri Pandits, Amarjit said, "Kirpa Ram along with a group of Kashmiri Pandits met Guru Teg Bahadur at Amarnath in Jammu and sought his help against forced religious conversions to Islam. Guru ji's fight was against religious intolerance, a subject which has become a matter of debate following attacks on Muslims in the country."
What history says on Guru Tegh Bahadur
The ninth Sikh Guru, Sri Guru Tegh Bahadur was born on April 1, 1621 in Amritsar, where now stands Gurdwara Guru ka Mahal. After the battle of Kartarpur, Guru Tegh Bahadur's father changed his name to 'Tegh Bahadur', which means 'Master of the Sword'. He is also known as 'Hind di Chadar', which means 'shield of India.'
In 1664, when Sri Guru Harkishan left for heavenly abode, Guru Tegh Bahadur was named as his successor and became the Ninth Guru of the Sikhs.
In the 17th century, Mughal king Aurangzeb's orthodox religious practices and intolerant attitude towards the beliefs of other religions led to conflict with other faiths.
Aurangzeb appointed one Iftikar Khan the Governor of Kashmir, who persecuted Kashmiri Pandits.
Pandit Kirpa Ram, a Kashmiri Pandit led a 16-member delegation to Sri Anandpur Sahib, where they narrated the brutal manner in which they were being forced to renounce their religion.
Hearing their plea, Guru Tegh Bahadur left for Delhi from Chak Nanki. He was arrested at Malikpur Ranghran near Ropar by Mirza Nur Mohammad Khan and confined to his headquarters in Sirhind, Patiala.
Later on, the orders of Aurangzeb, he was taken to Delhi and kept in the Kotwali of the city under surveillance of the Subedar of Shahjahanabad.
The Guru's disciples Bhai Mati Dass, Bhai Sati Dass, Bhai Dyala and other followers were brutally tortured and put to death in front of him.
Aurangzeb asked Guru Tegh Bahadur to either perform a miracle or accept death or renounce his religion. Guru Teg Bahadur refused to perform a miracle as it was against the "order and will of god" and said, "To convert under the fear of death is to surrender before injustice."
Guru Tegh Bahadur was beheaded on Aurangzeb's orders in Chandni Chowk on November 11, 1675.
A painting of Emperor Aurangzeb being carried on a palanquin. Credit: Wikimedia Commons
'Struggle against rulers' misdeeds'
Former History head of department at Panjab University, Chandigarh, and author of eight books on Sikh history, Dr Gurdarshan Singh Dhillon said that Guru Teg Bahadur gave martyrdom for the freedom of expression of religion during Mughal rule.
"Guru ji's stand was against the misdeeds of the rulers of that time. It was not against Islam. Everybody has a legitimate right to practice his or her religion, whether they are Hindu or Muslim. That is the fundamental right of every person," he said.
Dhillon, like Gill, said, "Had Guru Teg Bahadur been alive today, he would have given his life to save Muslims."
Dhillon noted Modi's initiative to celebrate 400th Parkash Parv of Guru Teg Bahadur, but added that "they have an agenda to create antagonism between the Sikhs and Muslims."
Commemorative coin released by Prime Minister Narendra Modi during the 400th Parkash Purab celebrations of Guru Tegh Bahadur at Red Fort.
"They want to project Guru Teg Bahadur's martyrdom as a rallying point against Muslim rulers. We must remember that Guru Teg Bahadur took the initiative of saving the Kashmiri Pandits on the plea of one Kirpa Ram, who was being forced by Aurangzeb to either convert to Islam or get ready to be killed," Dhillon added.
Dhillon said the BJP-RSS want to "subsume Sikhism".
"The fact is that Sikhism is a distinct and sovereign religion, opposed to the fundamentals of Hinduism. Sikhs consider Guru Granth Sahib as living guru whereas the Hindu scriptures give directions to reach almighty. Even the Supreme Court in one of its judgments had termed the Guru Granth Sahib as 'juristic person," he added.
'Don't need a certificate'
Former head of Akal Takht, Bhai Ranjit Singh also said that it was a welcome step on the part of Modi's government to celebrate the Parkash Parv of Guru Teg Bahadur with fanfare at Red Fort.
"But if the concept is to project Guru Teg Bahadur as having been against Muslims, then it is absolutely wrong. Rather Guru Teg Bahadur's ideals should be used to save the oppressed in the country," he said.
"We don't need anybody's certificate to prove the martyrdom of Guru Teg Bahadur. He was the voice of the oppressed and talking about his martyrdom is like showing a lamp to the sun," Ranjit Singh added.
To a query that Giani Harpreet Singh also spoke about attacks on minorities, he said, "Giani Harpreet is merely saving his chair. I don't want to comment on him."
When asked if the Aam Aadmi Party government has failed in holding a state-level function on this occasion, as the yearlong celebrations were started by former chief minister Captain Amarinder Singh, he said, "Ideally it is the responsibility of the SGPC and the Akal Takth to organise religious functions, but former CM Parkash Singh Badal hijacked the SGPC and the Akal Takth for political gains. When Badal was in power, he never let the SGPC and Akal Takht hold any important religious function and when he remained out of power, he never let any government perform."
Prime Minister Narendra Modi with former Punjab chief minister Parkash Singh Badal, who returned his Padma Vibhushan award to protest the farm laws. Photo: PTI/Files
'Minorities create problems for themselves'
Former general secretary of Rashtriya Sikh Sangat, a subsidiary of RSS, Avtar Singh Shastri lashed out at Sikh scholars for setting a "half narrative" while talking about Guru Teg Bahadur's life and sacrifice.
Avtar Singh Shastri said, "Guru Teg Bahadur sacrificed his life for the sake of Hindu Samaj. During Aurangzeb's rule, only Hindus were under attack. Aurangzeb was never against his fellow Muslims."
However, when pointed out that Aurangzeb even got his brother Dara Shikoh killed, Shastri said, "He killed him for power and not religion."
He also said that the RSS has nothing to do with any group propagating a different message about Guru Teg Bahadur's life and martyrdom. "As far as PM Modi is concerned, he has deep regard for Sikh community. He has been attached to Sikhism since his childhood. There is no such issue of minorities being under attack in the country. Rather it is the minorities who create problems for themselves by not respecting the country's opinion," he said.